Building a Security-First Culture with Remote Teams.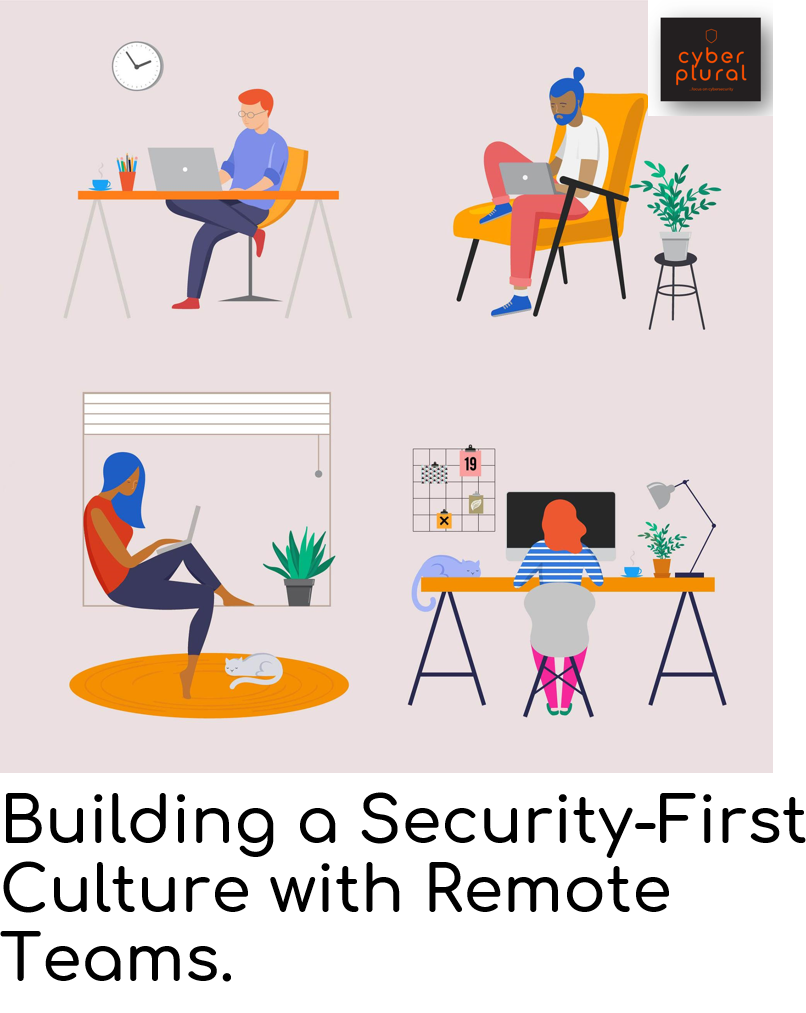 The COVID-19 pandemic has heightened the transition of many businesses to remote work arrangements. While these changes have come to stay, it brings to fore the increased dependency of business processes on technology and the need to incorporate security measures into business processes.
While many organizations are working to ensure that they embrace pertinent security controls and policies to support the new way of work, recent cyber attacks and data breaches have proven that security culture has not kept pace with the threat landscape. Embracing a 'healthy' security culture in a business environment is difficult and enforcing it in the remote workforce is even more tedious but attainable.
Generally, a healthy security culture answers in affirmative to questions like Do remote employees make the right choices when faced with whether to click on a link? Do they know the steps that must be taken when faced with a security challenge? Do they know why and how to always log in to the organization's network securely?
To maintain a sustainable security culture within a remote workforce, the goal is to attain an 'all-in' mentality within the teams. This can be achieved if the specified measures are deliberate, well understood and interoperable with work processes. Although an interpretation of what a healthy security culture may differ according to business type, we have elucidated some best practices we believe can help attain a security-first culture in a remote work environment.

1. Understand what a healthy security culture will mean in your organization.
A healthy security culture is not determined by how much an organization spends on security and it is not also a one-off event;  it is a system that is set to grow organically with the life cycle of a business towards positive returns. Hence, an organization needs to analyse and ascertain their current security standing, this will facilitate the development of security measures that can be embedded into business processes.
2. Instil the basics of secure work policies and practices during onboarding.
During onboarding, new intakes must be well educated on best practices, standards and various company policies to ensure accountability. Introducing security from the onset ensures that employees do not only understand what security means to the organization but also actively partake in protecting the organization against cyber attacks.
3. Awareness training and workshops
An organization's security culture requires nurturing, it is not something that grows on its own. So, for security culture to be sustainable among remote teams, there is a need for regular security awareness programs. This is geared at level-setting each employee's ability to identify threats before even understanding the depth of it.
Training can be outsourced to professionals who can design a specialized program for your organization our Cyberdemia is one of such resources.
These programs could be carried out virtually or by the circulation of standardized documents which are designed to be legible and easy to assimilate. Security exercises can be further solidified through simulations or questionnaires to ensure study material are well understood. Team managers can track compliance among teammates post-training to ensure the effectiveness of such programs
4. Ensure security is incorporated in the entire business processes
Remote work relies heavily on technology and one of the basic steps to promoting security is ensuring the optimal security of systems, hardware and software that are used in carrying out business processes. Key measures like; ensuring the right anti-malware software is in place, prompt patching of operating systems and software, multi-factor authentication process, robust password management, enforcing zero-trust policy and device standardization should be well considered.
When a potential vulnerability is traced to an individual or team, they should be held accountable to ensure the mistake is corrected and to cub instances of future occurrence.
Equally, teams who have performed exceptionally well and proven to be security conscious should be celebrated, this will be a huge motivator for them and other teams in the organization.
5. Make security engaging and easy to understand
Most times people consider security to be boring and a hindrance to ease of operation.  This misconception can be corrected, to cement a sustainable remote security culture, it is important to build fun and engagement into all the process parts. Security training programs can be made entertaining, movies, fictional materials that address pertinent organizational challenges can be suggested to teams, weekly or monthly security sessions for mentoring and discussing the latest security issues should be encouraged.
In conclusion, a strong security culture has never been more important and it is not something you build overnight. Optimally implementation and adoption of a sustainable security culture require constant training, sensitization, reinforcement and active participation across the board. For small businesses and organizations that do not have the expertise and resources to maintain a formidable cyber-secure
By Chioma Andeh